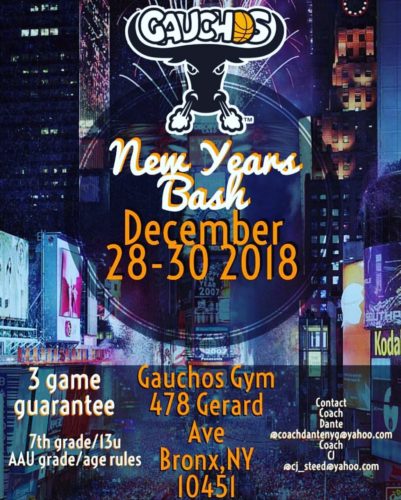 Championship Sunday saw the Gauchos New Years Bash come to an end with a Bang! The Jersey City Boys and Girls club provided the fireworks to close out a very competitive and exciting Tournament.
First Jersey City fought from behind to force an overtime win over the Hill Toppers in the semi-final game.
Then when you thought they didn't have anything left in the tank they pushed the home team Gauchos to the brink of another over time.  The Gauchos maintained the lead throughout the game but Jersey City never stopped fighting.  They even had a 2 point lead when they fouled our John Fland aka Booggie with 1.7 left on the clock.  Boogie went to the line to make 2 of 3 shots to tie the score.  It looked as if we were going to overtime.  But an inbound pass to Niko of Jersey City and a heave from ¾ court sent the crowd into a frenzy and the Gauchos home in second place.
We offer a special thanks to Coach Dante and CJ for putting on a competitive and entertaining tournament.  Also, much love to all of our volunteers who worked behind the scenes to make this an enjoyable and safe experience for our friends and family.
Gauchos New Years Bash
Pool A
Pool B
A1
Choz (Croft)
2-0
B1
Rens
1-1
A2
HillToppers
1-1
B2
Playtime
2-0
A3
Shooting Stars
0-2
B3
Choz-Black
0-2
Fri
Fri
8pm
A2-A3
46-9
6pm
B2-B3
43-23
Sat
7pm
B1-B3
53-42
10am
A1-A3
47-13
Sat
12noon
A1-A2
32-35
1pm
B1-B2
46-47
Pool C
Pool D
C1
Jersey City B&C
2-0
D1
Ring City
0-2
C2
Rising Stars
1-1
D2
Westside Warriors
1-1
C3
Castle
0-2
D3
Choz -Mitch
2-0
Fri
9pm
C1-C2
47-25
Sat
Sat
9am
D1-D3
0-15
11am
C1-C3
50-42
2pm
D1-D2
0-15
3pm
C2-C3
47-43
4pm
D2-D3
39-58
Championship Bracket
Sat
6pm
Gauchos Croft-Westside Warriors
50-30
7pm
Jersey City – Rens
56-46
8pm
Playtime- Rising Stars
29-42
9pm
Choz-Mitch-Hill Toppers
0-15
Sun
12Noon
Choz- Croft-Rising Stars
52-22
1pm
Hill Toppers-Jersey City B&C
38-43OT
3pm
Championship
Choz- Croft-Jersey City B&C
55-58